Genius Mordax Gaming Headset Review
Posted October 16, 2012 by Antonio Esmael in
Reviews
Navigation:
The Scorpion's Sting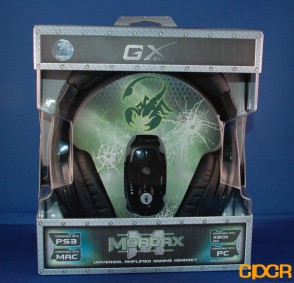 In a crowded gaming peripherals market, today we'll be taking a look at a new gaming headset from Genius. Having never having heard of the company before, I did a little research into their product catalogue. Genius has built up an array of technological devices from audio peripherals, digital photo frames, and even children's tablets.
Today, we'll be specifically reviewing the the Genius Mordax Universal Gaming Headset. The Mordax falls into their newly developed GX line of gaming devices and peripherals, and being a universal headset, the Mordax aims to take on the likes of Tritton, Turtle Beach, and Sharkoon by offering a headset that is designed to work with the PC, Mac, XBox 360, and Playstation 3.
With a street price at under $50, Genius is aiming this new headset at the casual gamer who wants an all-in-one device that sound good, but doesn't completely break the bank. Does the all new Mordax stand a chance against other gaming headsets? Or is it just another company trying to cash in on an increasingly growing market? Let's dive deeper and see what they have to offer!
Genius Mordax Technical Specifications
Headphone
Driver Unit Dimensions: 40mm
Frequency Response: 20Hz ~ 20KHz
Impedance: 32 ohm
Sensitivity: 117dB
Cable Length: Headphone: 3M (10 feet); RCA cable: 2M (6.6 feet) 2.5mm cable: 1M (3.3 feet)
Microphone
Sensitivity: -54±3 dB
Directivity: Omni-directional
Frequency Response: 100Hz~10KHz