Galaxy GTX 560 GC 2GB Review
Posted December 27, 2011 by Tom Li in
Reviews
Navigation:
Overclocking
| | |
| --- | --- |
| Clock Speeds | Unigine Heaven v2.5 |
| Nvidia GTX 560 Reference (810/1620) | 26.3fps |
| Galaxy GTX 560 GC 2GB (850/1700) | 26.6fps |
| OC (903/1806) | 28.0fps |
| OC (982/1964) | 29.0fps |
Overclocking the Galaxy GTX 560GC 2GB was a fairly effortless experience. With the stock voltage, we were able to crank this card up to 903MHz core / 1806MHz shader with little to no artifacting. After running a Furmark stress test with the heatsink fans blasting at 100%, the Galaxy GTX 560 GC 2GB peaked at 79°C which is well within safe temperature limits for a graphics card like this. The 903MHz overclock was able to yield us a 5.26% increase in performance in our Heaven benchmark.
With some additional voltage tuning and pushing the card even further, we eventually reached an operable clock speed of 982MHz/1964MHz at 1.087V. As you can see below, temperatures held steady at 87°C after our full 15 minute Furmark stress test. We were also able to achieve a 29.0fps in our Heaven benchmark which equates to a 9.02% performance increase. It should be noted however that at this clock speed there was noticeable artifacting. Despite a full 21.23% (172MHz) increase in clock speeds, the card's cooler was still able to keep the GPU at acceptable temperatures.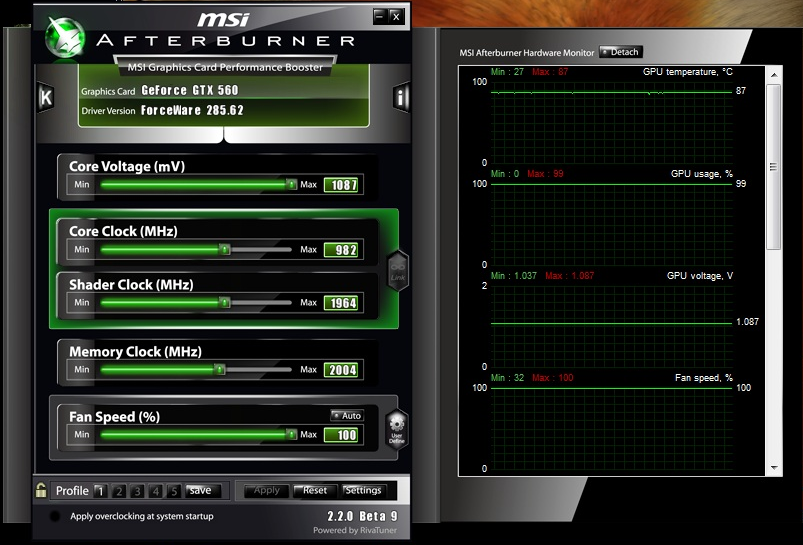 *Update 01/20/12*
For those of you wondering why we didn't use Galaxy's own overclocking software, Xtreme Tuner HD, for this review's overclocking portion, here's a quick explanation. When we first made our attempts at overclocking this card, we downloaded Xtreme Tuner HD version 3010, which was the latest version on Galaxy's website at the time. Unfortunately we had one big issue with the software – voltage controls were greyed out. This meant that the voltages could not be adjusted any higher than stock, so we resorted to using our tried and true MSI Afterburner overclocking software.
Well, after we published the review, Galaxy contacted us to see why we didn't include the Xtreme Tuner HD software and after explaining the situation, they informed us that a new version of the software had been released – version 3016. Of course, naturally I went ahead, installed it and tested it out.
Check out what happened next: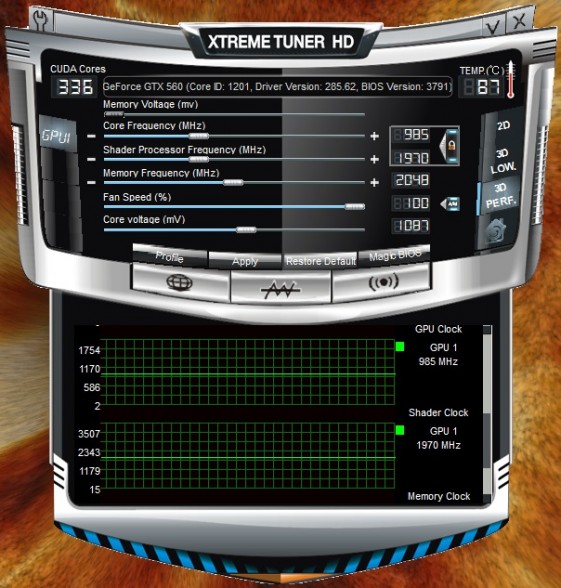 Long story short, pushed it up to 985MHz core / 1970MHz shaders @ 1.087v and ran a little over 15 minutes worth of Furmark to ensure stability. Sweet! Everything works now! Did I mention I was able to get to a higher clock speed today?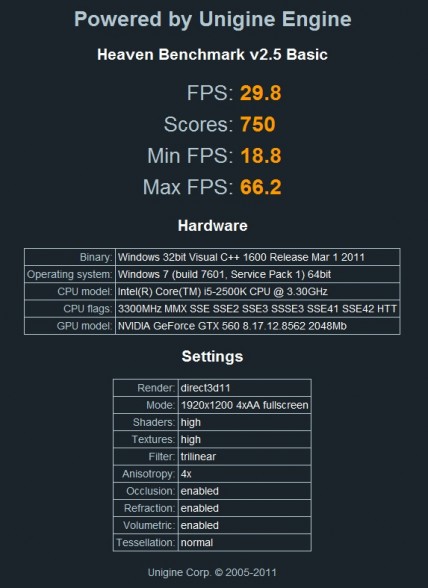 Of course, what's a high overclock without some benchmarking to back it up right? So, I ran Heaven v2.5 again and… Nice. 29.8fps. If you missed it from the screenshot earlier, in this round I also pushed the memory clocks to 2048MHz from the stock 2004MHz whereas in my original overclocking I neglected to do so. Of course, when running at these clocks you do get quite a bit of artifacting, but Heaven does run all the way through.
If you're interested, be sure to take a look at Xtreme Tuner HD version 3016 or higher. As you can see from the screenshot above, the software is pretty versatile allowing you to do some pretty cool stuff. For example, you can access the 2D section and lower the voltage being pumped to card to save electricity and allow your video card to run a bit cooler/quieter while idle. Also, if you happen to have an iPhone, you can download the Galaxy Xtreme Tuner HD iPhone App allowing you to overclock from your phone. Neato!