CyberPowerPC Xplorer X6-9120 Gaming Laptop Review
Navigation:
Xplorer X6-9120 Power Consumption
Here we'll be testing the maximum power consumption of each of the test systems shown below. In order to draw the maximum amount of power possible, both Prime95 and Furmark are run simultaneously and the final results are taken. For laptops, the battery is removed and the system is set to "high performance" mode for a more accurate reading of power consumption.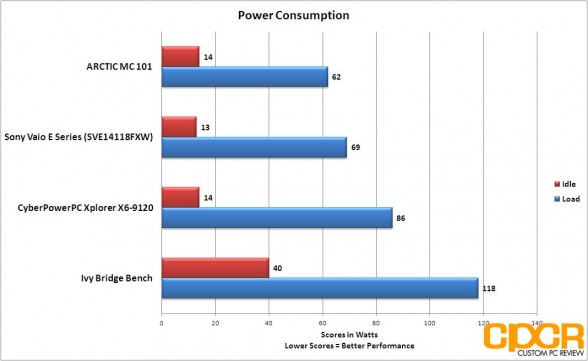 In terms of power consumption, we immediately notice that there isn't much difference in idle power draw between the three mobile CPUs as they only draw between 13 and 14w idle. Under load, the i7 3610QM on the Xplorer X6-9120 spikes up to 86w power draw, no doubt due to its discrete graphics chip.
Powermark Professional Edition v1.1.1
Powermark is a benchmark utility developed by developers behind both 3D Mark as well as PC Mark. This benchmark is designed to test real world battery life in a variety of situations such as web browsing or gaming. For our testing today, the system power setting is set to "balanced", the screen is set to the medium brightness setting, and the wireless is switched on.
Light Load
The productivity test includes the web browsing and word processing workloads, simulating a typical work use scenario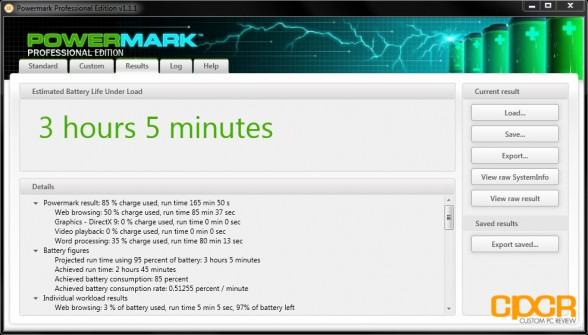 Medium Load
The balanced test uses an even split between the web browsing, word processing, video and gaming workloads.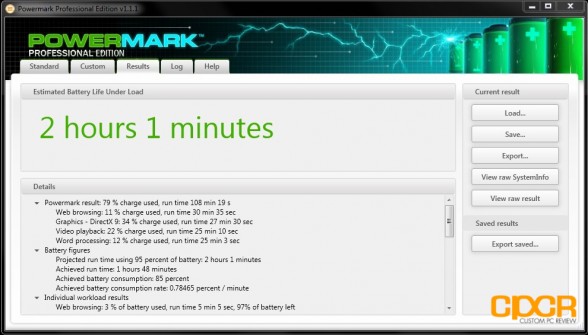 Heavy Load
The entertainment test includes the video and gaming workloads, simulating a typical recreational use scenario.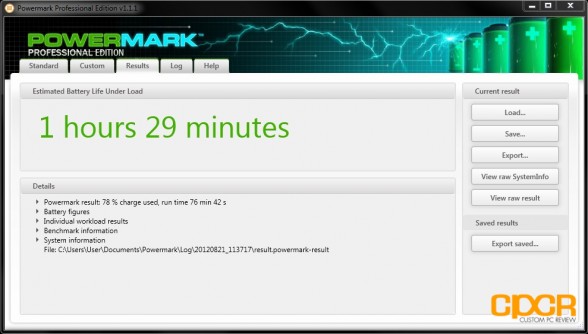 In terms of battery life, the Xplorer X6-9120 definitely isn't going to be a record breaker as it's ultimately a fairly high powered 15″ laptop, but it is capable of breaking the 3 hour mark during general web usage, which should be more than enough for typical meetings and lectures. While this is a stark contrast in comparison to the 5 hour battery life claim by CyberPowerPC, testing conducted today was with the brightness setting at medium, power settings at "balanced", and the wireless on. That said, I was a bit disappointed that the laptop is only capable of around 1 hour and 29 minutes during heavier load (such as HD video playback) as a typical movie is around 2 hours long. Those planning to watch an HD movie should definitely turn the screen brightness down, turn off wireless, and set the power settings to "power saver" mode.
X6-9120 Temperatures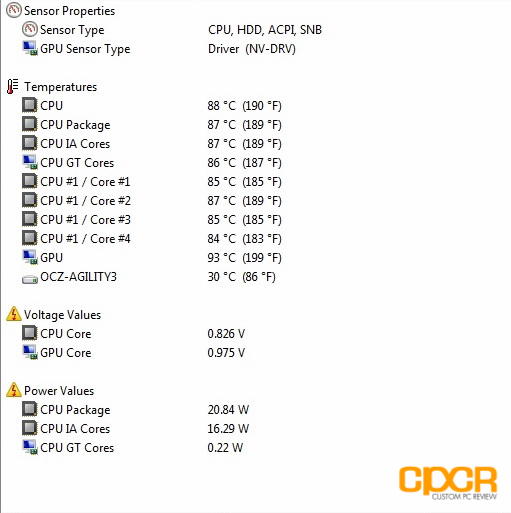 For temperature testing, I loaded up both Prime 95 and Furmark for a total of 30 minutes to create the maximum amount of heat possible. Considering this type of stress probably would never happen during typical use, temperatures were still acceptable overall as the CPU is kept under 90°C while the GPU is slightly over 90°C at 93°C. While this is something to be concerned about with desktop CPUs, notebook CPUs and GPUs tend to run hot, so temperatures in the low 90′s and upper 80′s should be fine. As this is a gaming notebook, I would definitely recommend using it in a well ventilated area, especially during intense gaming.