CyberPowerPC Xplorer X6-9120 Gaming Laptop Review
Navigation:
Xplorer X6-9120 Graphics Performance
The only GPU option possible on the Xplorer X6-9120 is the Nvidia GeForce GT 640M 2GB graphics card, which is a discrete graphics card based off Nvidia's new 28nm Kepler architecture (GK107). Since we didn't have any mobile GPUs for reference, we'll be using the integrated graphics solutions of the Ivy Bridge HD 4000 graphics along with the A10-4600M APU's Radeon HD 7660G graphics for reference. For better comparison purposes, the Xplorer X6-9120 was connected to a 27″ Hanns-G monitor running at a resolution of 1920 x 1200; however, be aware that the maximum resolution of the 15.6″ display included is 1920 x 1080. All graphics testing is done with the laptop set to "high performance" mode and the AC adapter plugged in.
During testing, I did run into an issue that I believe is due to Nvidia Optimus switching. When going from 3D graphics to 2D graphics and vice versa, the screen would go blank despite everything else running perfectly fine in the background. This occurred both when running on an external display as well as the integrated display. However, this was easily resolved through a driver update to Nvidia's latest beta drivers.
3D Mark 11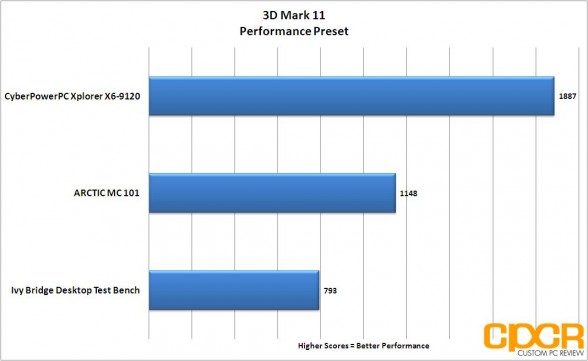 Kicking off benchmarking with 3D Mark 11, it's quite clear that the discrete GT640M graphics is significantly more powerful than any integrated graphics solution tested today.
Unigine Heaven v3.0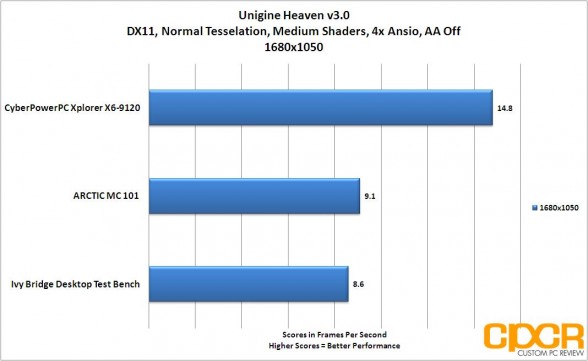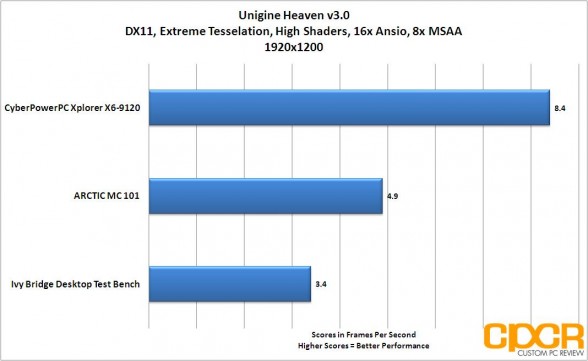 In the Heaven benchmark, we see more of the same thing. The GT 640M is able to dominate the integrated graphics solutions from both AMD and Intel.
Lost Planet 2
Lost Planet 2 is a game developed by game developers Square Enix. While it's not the newest game in town, it's a good representation of what kind of graphics performance can be expected from older games.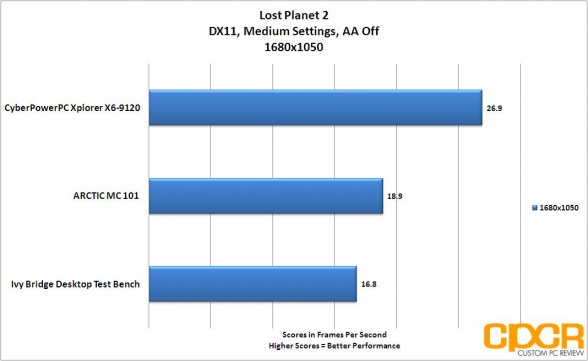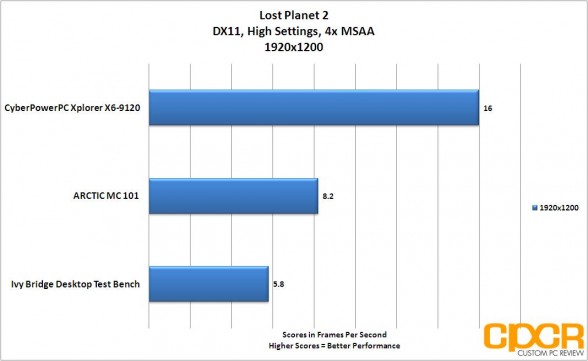 Despite Lost Planet 2 being an older game, it still requires some serious graphics power to run as the GT 640M is still having difficulty averaging over 30FPS at 1680 x 1050 on medium settings.
Game Benchmarks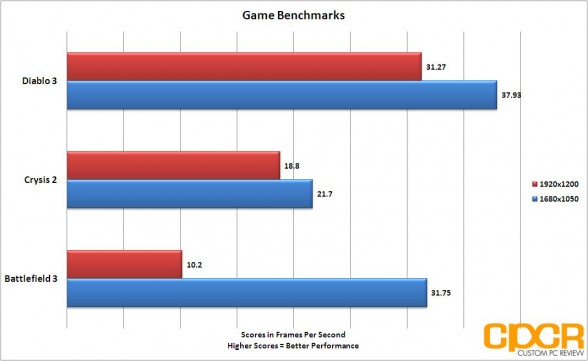 For the rest of our graphics testing, I ran a couple of today's most popular games to see what kind of performance can be expected. As you can see above, Diablo 3 is the most playable game with the GT 640M pushing well over 30FPS at 1920×1200 with the maximum settings enabled.
Batttlefield 3 was passable with medium settings at 1680×1050, which ran at 31.75FPS, but I would definitely recommend lowering the settings even further especially for those who play online as the minimum FPS dropped to 12FPS during a heavy gunfight.
Crysis 2 on the other hand was not passable at both 1920 x 1080 (high settings) or 1680 x 1050 (medium settings).