CyberPowerPC Xplorer X6-9120 Gaming Laptop Review
Navigation:
Initial Boot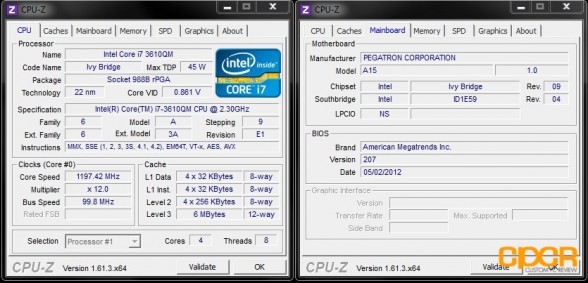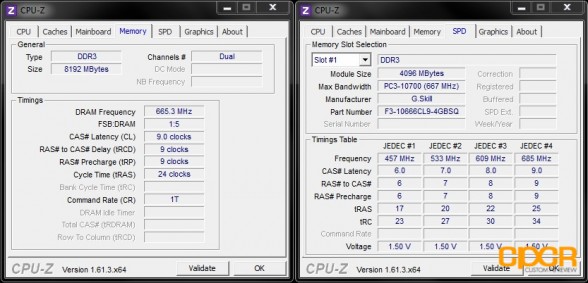 Above is the CPU/motherboard/memory configuration. As mentioned previously, we've got an Intel Core i7 3610QM capable of turboing up to 3.3GHz, a Pegatron A15 motherboard, and 8GB of GSkill 1333MHz CAS 9 memory.
Initial bootup was fairly quick due to the SSD, and the Windows 7 OS is installed, pre-configured, and ready to go. One thing I noticed right off the bat with the laptop is that CyberPowerPC hasn't included any bloatware to speak of. Nice.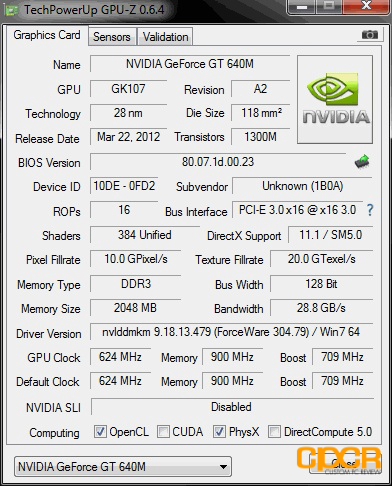 In the graphics department, we've got both the Intel HD 4000 graphics running alongside the Nvidia GeForce GT 640M through Nvidia's Optimus technology. This allows 100% seamless switching between integrated and discrete graphics for maximum power efficiency. What's interesting about the GT 640M is that while some 600M series graphics solutions are simply rebranded 500M series graphics cards, the core of the GT 640M is the GK107, which is based off Nvidia's new 28nm Kepler graphics technology used in the GeForce 600 series desktop graphics cards.
Testing the CyberPowerPC Xplorer X6-9120
Today, we'll be running a number of benchmarks on the CyberPowerPC Xplorer X6-9120 for performance testing. Now, I typically review desktop hardware so for reference, I've included numbers for a reference Ivy Bridge test system running off the integrated graphics. This will give us an idea of what type of CPU performance can be expected from the laptop as the i5 3570K is a fairly common processor. In addition, I've also included benchmarks from an older generation Sony Vaio E Series laptop (SVE14118FXW) as well as the mobile Trinity powered ARCTIC MC101 HTPC for reference as well.
Ivy Bridge Test Bench
CPU: Intel Core i5 3570K
Motherboard: Gigabyte Z77X-UD3H
Memory: 8GB Corsair Vengeance LP DDR3 1600MHz
Graphics: Intel HD 4000 Integrated
Storage: OCZ Vertex 4 128GB
PSU: Corsair HX650
OS: Windows 7 Ultimate x64
System Performance
PC Mark 7
PC Mark 7 is a full system benchmark designed to test real world system performance.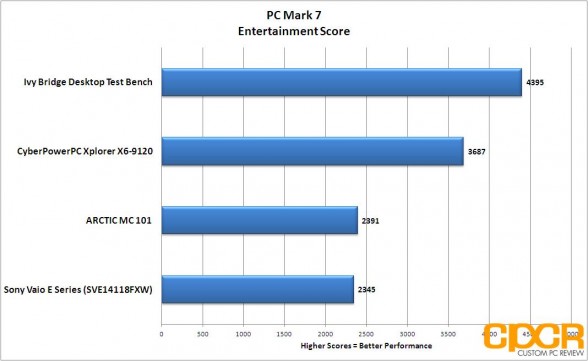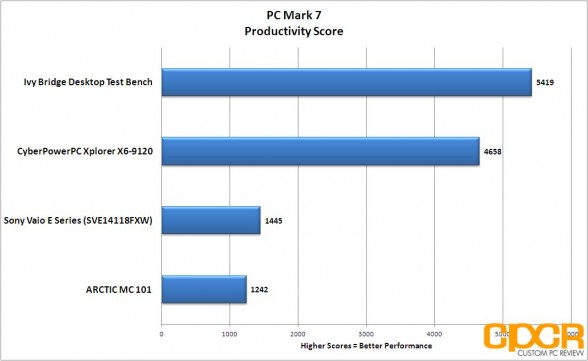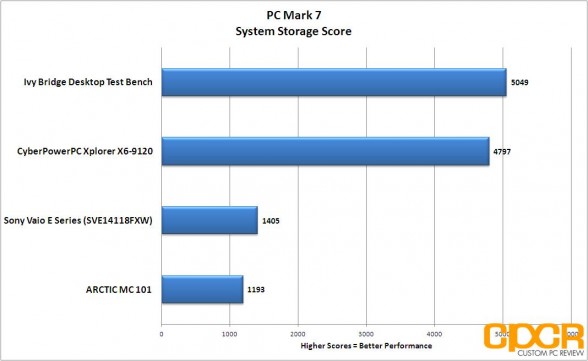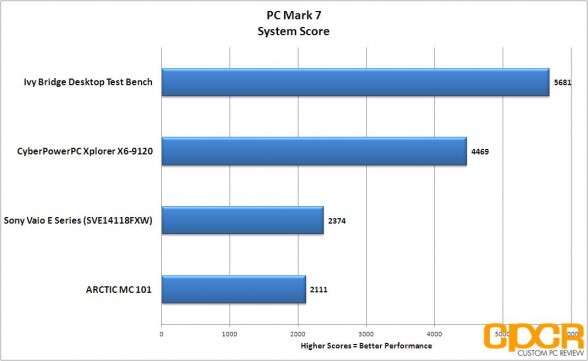 Because of the Xplorer X6-9120′s combination of the i7-3610QM, GT640, and the OCZ Agility 3, it was easily able to outpace the MC101 and the Sony Vaio E series laptop. Of course, the main reason for this is the fact that our configuration includes an OCZ Agility 3 SSD, which is heavily favored by the PC Mark 7 benchmark.