Creative ZiiSound D3x Wireless Bluetooth Speakers, DSx Wireless Subwoofer Review
Posted June 25, 2012 by Contributing Writer in
Reviews
Navigation:
Bluetooth, Modular and Wireless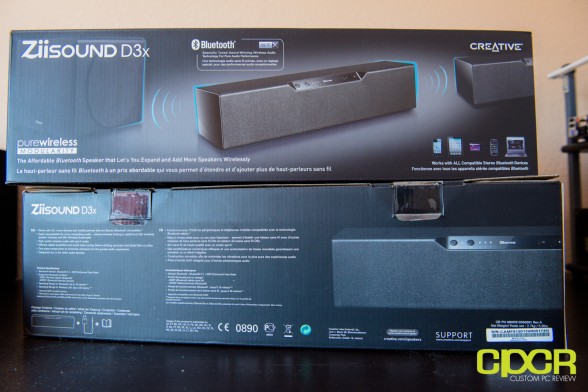 For anyone who's done a quick search on Amazon these days, high quality speakers with Bluetooth technology simply don't exist. Sure, there are great Bluetooth headphones out there and even some pretty high end Bluetooth iPod/iPhone docks, but high-end Bluetooth speakers? Nope! At least not that I'm aware of.
So you can see, there's a void in the market and Creative, being the long time leader in audio technology and a veteran developer of Bluetooth based audio products, has decided to step up to the challenge of producing such a thing.What they came up with is the ZiiSound line of modular and wireless Bluetooth speakers. What's interesting about the ZiiSound line of speakers is that they don't have to be purchased as a full set. Instead, Creative has made it so that pieces of the system may be purchased individually so those unwilling to say drop the full $450 for 2x ZiiSound D3x speakers and a ZiiSound DSx subwoofer may simply purchase a ZiiSound D3x first then upgrade later when their budget allows. This system offers consumers the flexibility of starting modestly with a single speaker unit, and then later expanding it up to three speakers and a wireless subwoofer, the ZiiSound DSx. This allows buyers to amp up the audio quality of the entire system at their own pace, whether it be purchasing everything in one shot or gradually completing the set. Currently, the ZiiSound line of modular audio products will come in three different flavors – the ZiiSound D3x speaker, the ZiiSound D5x speaker and the ZiiSound DSx subwoofer. Creative also offers the ZiiSound D5 speaker, but it's not modular and won't be able to interface with the D3x, D5x or the DSx.
Today, we'll be reviewing the ZiiSound D3x speaker along with the ZiiSound DSx subwoofer. The ZiiSound D3x is the smaller speaker in the ZiiSound range and measures 3.7  inches tall, 16.1 inches wide and 3.5 inches deep. It's quite a versatile little speaker and can be connected to a variety of devices such as MP3 players, desktops, laptops, tablets, etc through either the 3.5mm aux in port or through Bluetooth. The unit may be expanded with up to two more ZiiSound D3x units for a total of three speakers and four additional ZiiSound DSx subwoofers as well. Unfortunately, the ZiiSound D3x and the higher end ZiiSound D5x cannot be mixed and matched. No additional information about the D3x such as frequency response or drivers are available from Creative's website.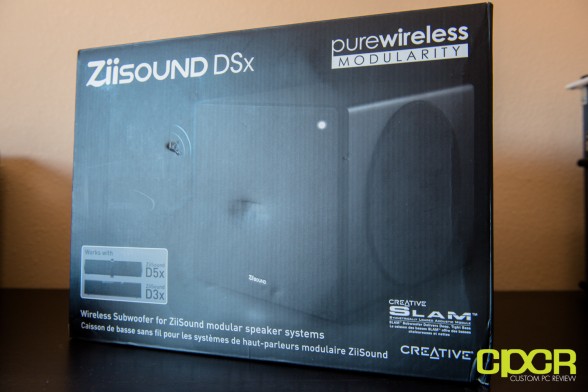 The ZiiSound DSx on the other hand is the only subwoofer in the ZiiSound line of audio products. Measuring in at only 3.9 inches tall, 16.7 inches wide, and 3.9 inches deep, it's actually a very compact subwoofer, which means that it's for smaller environments. Unfortunately, no RMS power output or any other information about the subwoofer is available from Creative. As far as connectivity goes, it may only be connected wirelessly to either the ZiiSound D3x or the ZiiSound D5x to provide greater bass response for these speakers. Additionally, it uses Creative's own SLAM, or Symmetrically Loaded Acoustic Module, technology, which is simply Creative's fancy way of saying that the subwoofer is portless in design and utilizes three drivers – a master and two pressure drivers. No additional information about the drivers are available from Creative's website as well.
As a bonus, Creative also sent us their BT-D1 USB Bluetooth adapter to test these speakers with as well. Unlike traditional Bluetooth adapters included in your iPhone or your laptop, the BT-D1 uses the proprietary aptX codec, which according to CSR (the company behind aptX) will offer "bandwidth-efficient audio quality which is indistinguishable from wired".