Creative Sound Blaster Axx SBX 10 and SBX 20 Review
Navigation:
The Jack of All Trades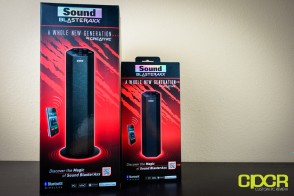 Creative is an interesting company. Despite them being most well known for their Sound Blaster line of discrete sound cards, they actually have a ton of product lines covering stuff like speakers, headphones, headsets, etc. What they don't yet have is something that combines the features of all these products into one. Until now.
Meet the Sound Blaster Axx. It's really quite hard to classify what kind of device this thing is, but it's basically a huge mash of all the stuff Creative makes into a single product. In the most basic form, the Axx is simply a USB powered computer speaker with a microphone. What makes this speaker special is that it's powered by Creative's SB-Axx1 audio processor. Creative's "new" SB-AXX1 multi-core voice and audio processor is Creative's newest audio processor, which like the SoundCore 3D series processors is capable of processing audio and voice information in real time. This allows Creative to enhance both audio and voice without the need of any PC software.
While this is pretty cool, the more advanced models of the Axx (SBX 10 and SBX 20) get cooler. Both of the more advanced models also feature a Bluetooth interface along with the standard USB interface, so it's capable of interacting with any Bluetooth enabled device such as a smartphone. This opens up a lot of doors as smartphones will be able to play music or take calls directly through the Axx. What then makes this even cooler…er is the fact that all of Creative's audio processing technology we've grown to know and love such as noise cancellation, voice focus, smart volume, etc. can be applied directly to voice streams in call and in real time.
Today then, we'll be reviewing both the Creative Sound Blaster Axx SBX 10 and the Creative Sound Blaster Axx SBX 20. Will the culmination of Creative's technical prowess result in epic success or epic failure? Let's find out!
Sound Blaster Axx Specifications
| | SBX 20 | SBX 10 | SBX 8 |
| --- | --- | --- | --- |
| Interface: | USB 2.0, Bluetooth | USB 2.0, Bluetooth | USB 2.0 |
| Wireless Technology: | Bluetooth 2.1 + EDR | Bluetooth 2.1 + EDR | N/A |
| Bluetooth Profiles | A2DP, AVRCP, HFP | A2DP, AVRCP, HFP | N/A |
| Frequency: | 2.4GHz | 2.4GHz | N/A |
| Audio Codec: | AAC, SBC | AAC, SBC | N/A |
| Operating Range: | Up to 10m/33ft | Up to 10m/33ft | N/A |
| Build-in Microphone: | Omni-directional microphone array | Omni-directional microphone array | Omni-directional microphone |
| Audio Inputs: | 1x 3.5 mm Aux In/Microphone In Combo Jack | 1x 3.5 mm Aux In/Microphone In Combo Jack | 1x 3.5 mm Aux In/Microphone In Combo Jack |
| Audio Output: | 1x 3.5 mm Headphone Jack | 1x 3.5 mm Headphone Jack | 1x 3.5 mm Headphone Jack |
| Dimensions (L x W x H): | 109.8 x 97 x 400.2 mm | 90.6 x 80.3 x 295.7 mm | 64.4 x 57 x 166.1 mm |
| Weight: | Approx. 1.9kg | Approx. 0.8kg | Approx. 0.3kg |
| Check Pricing | Click Here | Click Here | Click Here |