Corsair Neutron GTX 120GB SSD Review
Navigation:
Corsair Neutron GTX 120GB Power Consumption
Since a great majority of SSD nowadays are used in mobile applications, we've begun testing SSD power consumption as a part of our reviews. For power consumption testing, we'll generally run three tests which consists of idle power consumption, constant 4K read/write power consumption, and constant sequential read/write power consumption. Please note that these power consumption measurements are constant read/write measurements, NOT peak measurements.
All tests below are measured by tapping directly into the 5v line running from the power supply to the drive. All testing here is conducted with "HIPM/DIPM" enabled and "AHCI Link Power Management – Adaptive" set to 0 milliseconds for maximum power efficiency.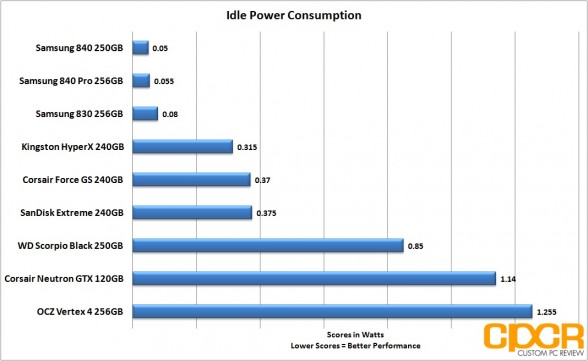 Although being advertised as low power consumption, the Neutron GTX with its LAMD controller isn't actually all that low, drawing about 1.14W while doing absolutely nothing.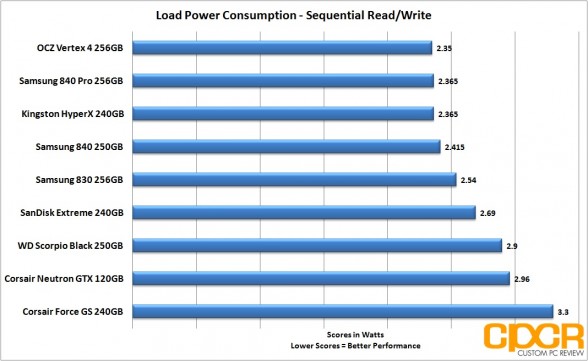 In constant sequential read/write operations, the Neutron GTX draws 2.96W here, which again is relatively high compared to the other SSDs tested today, but in absolute terms, we're looking at less than a 1W difference between the Neutron GTX and the most power efficient SSD.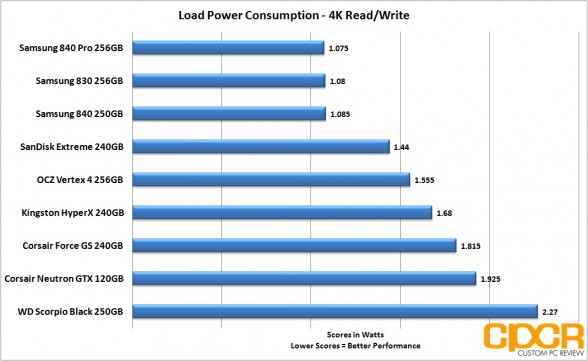 Moving on into constant 4K power draw, the Neutron GTX is the least power efficient SSD in the group, drawing 1.925W during load. Relatively speaking, it draws quite a bit of power, but again absolutely speaking it's going to be less than 1W difference.