Corsair Neutron GTX 120GB SSD Review
Navigation:
Corsair Neutron GTX 120GB Performance
Crystal Disk Mark 3.0.1 x64
Crystal Disk Mark is another popular benchmark which allows us to measure both sequential read/write speeds as well as random read/write speeds. With this benchmark, tests can be run using both random fill (incompressible data) and 0 fill (compressible data). Realistically in typical computer usage scenarios, data being transferred will consist of a mixture of both incompressible and compressible data.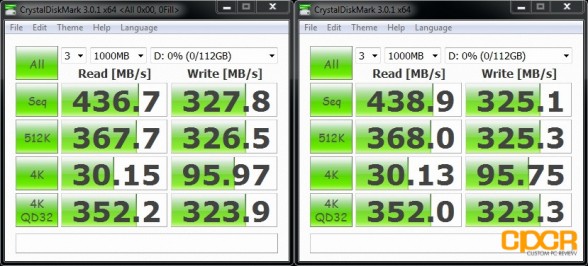 Moving on into Crystal Disk Mark, I'm definitely quite impressed with what we've got here. Performance between compressible and incompressible data sets are identical which is ideal and 4K numbers are quite impressive especially with this being a 120GB/128GB class SSD. Most impressively, the 4K QD32 performance figures are very good, which is a clear indication of LAMD's enterprise heritage.
AS SSD Benchmark
AS SSD is a very commonly used benchmark used to measure SSD performance in a number of categories. Here, tests are run using incompressible data, which most simulate real world usage. It also outputs a final score at the conclusion of the test based off the read and write performance of the drive.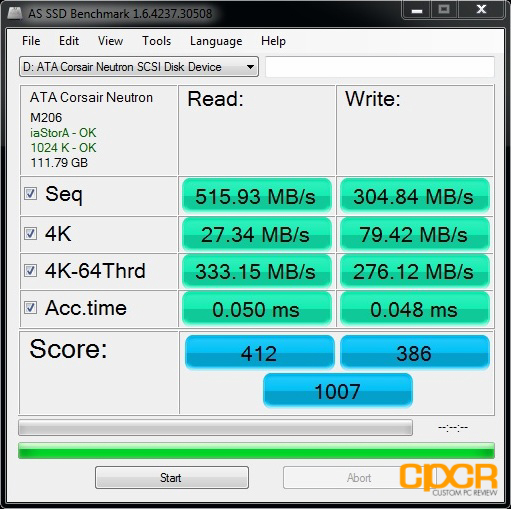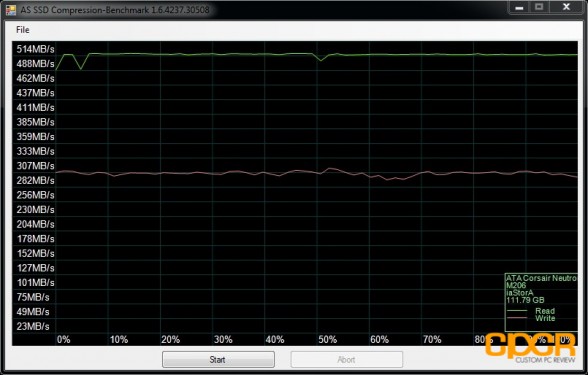 AS SSD's performance figures mirror what we've seen with Crystal Disk Mark quite well, but what we're most interested in of course is the compression benchmark here. As you can see, the line for both sequential reads and sequential writes are pretty flat, which is ideal as there will be no performance difference when working with compressible or incompressible data.