Corsair Force Series GS 240GB SSD Review
Navigation:
Corsair Force GS 240GB Performance
Crystal Disk Mark 3.0.1 x64
Crystal Disk Mark is another popular benchmark which allows us to measure both sequential read/write speeds as well as random read/write speeds. With this benchmark, tests can be run using both random fill (incompressible data) and 0 fill (compressible data). Realistically in typical computer usage scenarios, data being transferred will consist of a mixture of both incompressible and compressible data.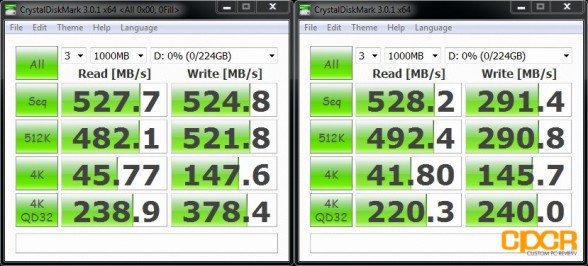 Moving into Crystal Disk Mark then, we can immediately see that what we have here is a SandForce based product given the huge disparity in performance when using compressible (left) vs incompressible (right) data sets. While this was expected, one thing I'd like you to take notice of is the blazing fast 4K read/write results seen here. No SandForce based SSD has gotten anywhere near 145.7 MB/s in incompressible 4K writes. Until now.
AS SSD Benchmark
AS SSD is a very commonly used benchmark used to measure SSD performance in a number of categories. Here, tests are run using incompressible data, which most simulate real world usage. It also outputs a final score at the conclusion of the test based off the read and write performance of the drive.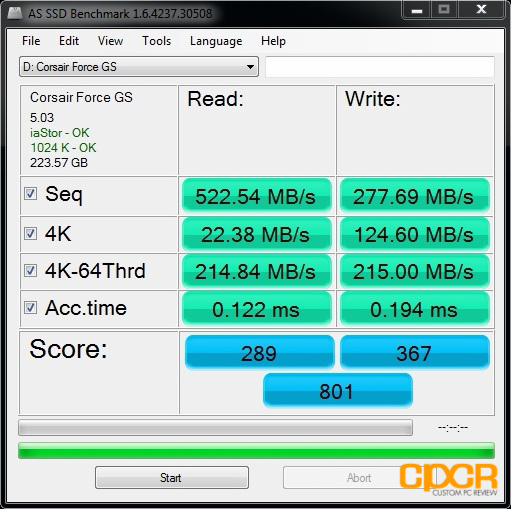 AS SSD generally mirrors the results in Crystal Disk Mark, and it's a good tool for confirming our results in Crystal Disk Mark. Remember, AS SSD only tests using incompressible data and we're talking about a SandForce based SSD here so writes speeds will likely be low.
Also important is the compression benchmark which gives us an idea of performance based on how compressible data being read/written is. As a SandForce drive, we can see that while reads are fairly consistent over the entire range of compression, writes increase in performance as data becomes more compressible.