Corsair Force Series GS 240GB SSD Review
Navigation:
Ivy Bridge Test Bench
Special thanks to Gigabyte, Kingston, and HSPC for sponsoring our test bench!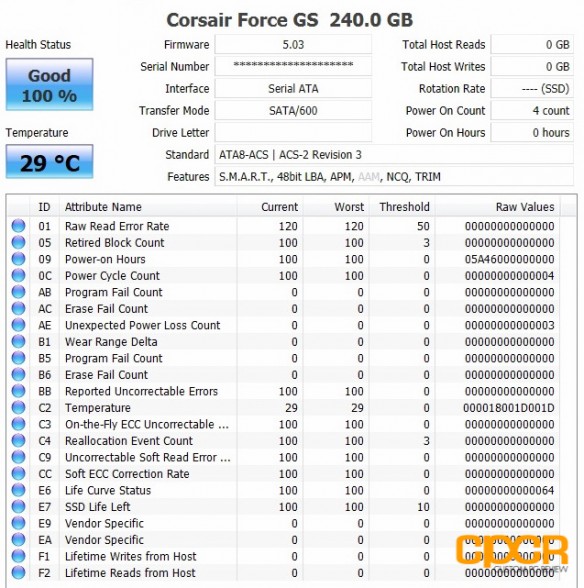 Before we move onto the performance section of the review, I'd like to turn your attention to the firmware version for a second. Yes that's right people, we'll be testing the Corsair Force GS 240GB with the 5.03 firmware. For those not in the know, the 5.03 firmware is the latest SandForce controller firmware, which among other things fixes TRIM – a feature broken since firmware 5.01/5.02. For those still running on firmware 5.01/5.02 or older, please visit the Corsair forums to download the update.
Corsair Force GS 240GB Performance
ATTO Disk Benchmark v2.46
ATTO Disk Benchmark is one of the industry's oldest and most popular benchmarks for testing disk read/write speeds. This benchmarks allows read and write testing using predefined block sizes and gives us a good idea of read/write speeds with different sized files. Most SSD manufacturers these days prefer using this benchmark when advertising SSDs as it tests using compressible data, which tends to yield better performance.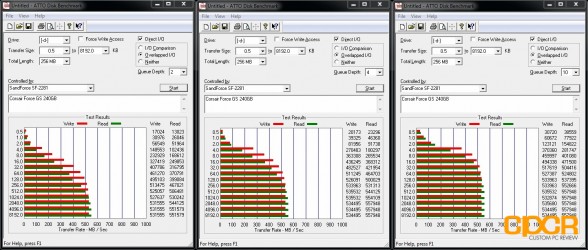 As expected, the Corsair Force GS 240GB dominated ATTO Disk Benchmark putting up 500+ MB/s in both sequential reads and writes from both smaller and larger queue depths. For a SandForce SF-2281 + MLC Toggle NAND based SSD, did anyone expect to see anything less?