Corsair Force Series GS 240GB SSD Review
Navigation:
A Closer Look at the Corsair Force GS 240GB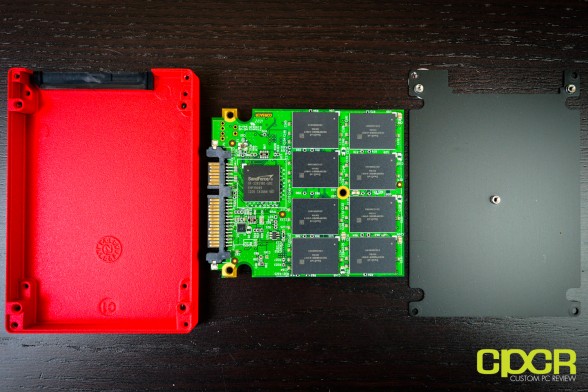 Removing a couple Phillips head screws, we crack open the casing to find a slightly undersized PCB holding all the ICs for the Force GS. This is more than likely a cost cutting measure as smaller PCBs will cost less to produce.
Despite the smaller PCB, Corsair is very efficient in using all the space rather than wasting a lot of space with a larger PCB. In total, we're going to be getting the controller along with a whopping 16 x 16GB NAND packages (8 front, 8 back), which will ensure that all of the controller's channels are used in order to maximize performance. As 16 NAND packages x 16GB each is 256GB, 16GB is used for overprovisioning. After formatting, a total of 224GB is available.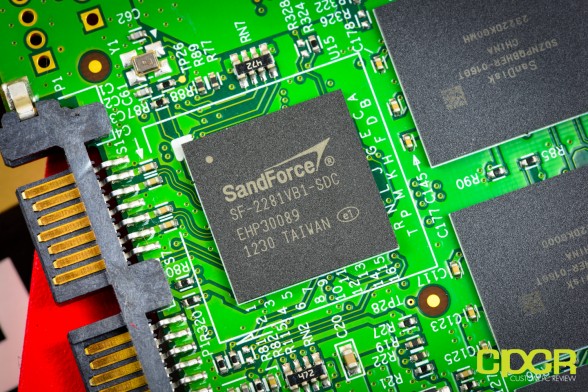 Here's a closer look at the controller Corsair has chosen to go with for the Force GS. What we've got here is the SandForce SF-2281VB1-SDC controller, which is one of the most common SSD controllers out there. That said, because of how common it is these days, it's also relatively inexpensive to purchase, which will help reduce the cost of this SSD.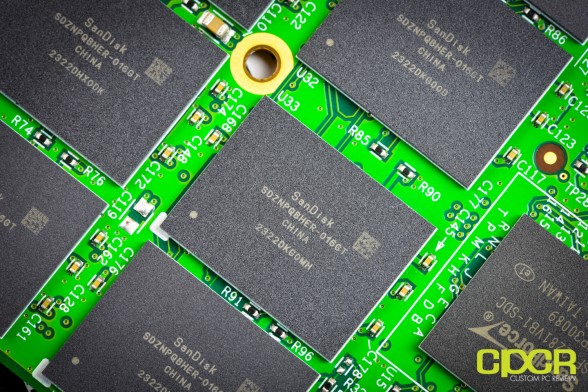 Here's a closer look at the NAND ICs used on the Force GS 240GB. Despite the recent release of SanDisk/Toshiba 19nm Toggle Mode MLC NAND used in SSDs such as the Plextor M5 Pro, Corsair has opted to use slightly older 24nm SanDisk/Toshiba Toggle Mode MLC NAND as it's still very fast, but most importantly, it has much better availability and probably price (for now).
The specific NAND used here is the SanDisk branded SDZNPQBHER-016GT. This stuff is quite similar to the 24nm Toggle Mode MLC NAND we saw in the SanDisk Extreme, but they carry different model numbers, so I'm assuming what we have here is something different, just not entirely.