Corsair Dominator Platinum DDR3 2133MHz 16GB Kit Review
Navigation:
Dominator Platinum Performance
SuperPi 32M
SuperPi is a single threaded benchmark utility that simply calculates pi for us and records the time to calculate 32 million digits after the decimal point. It's a fairly good CPU/memory stability testing tool as well.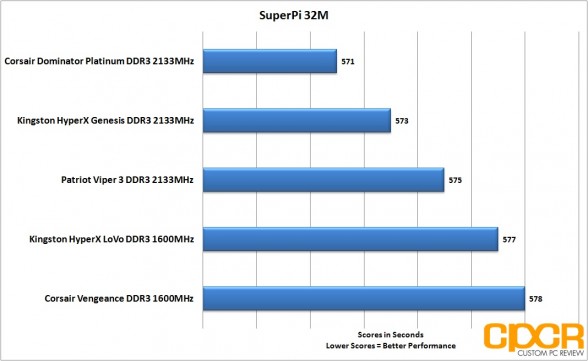 First test looks pretty good. So far our Dominator Platinum is dominating. Unfortunately while the chart looks like there's a massive difference, the difference between the Dominator Platinum and the second fastest HyperX Genesis is only 2 seconds… out of 573. Therefore, not much at all.
AIDA64
Our AIDA64 comparison testing consists of three benchmarks: Queen, PhotoWorxx and AES. Queen involves measuring computer performance by calculating the Queens problem in chess, AES involves measuring computer performance through AES data encryption and Photoworxx measures computer performance through common tasks performed during photo processing.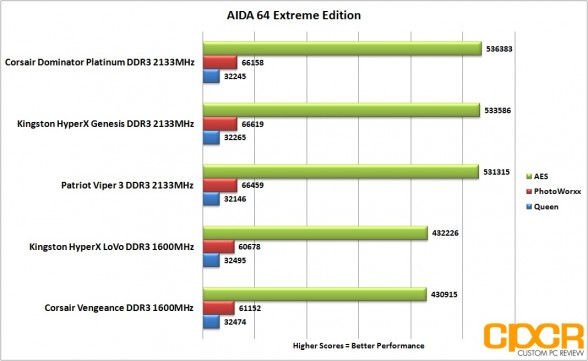 Here's some synthetic testing. Once again, not much difference here especially with the Photoworxx or Queen benchmark. With the AES encryption benchmark, it seems like higher clocked memory does perform better, but all of the higher clocked memory all perform around the same.
x264 HD Benchmark v.5.0.1
x264 HD video tests how fast the system can encode a 1080p video into a high quality x264 video file. The most recent 5.0.1 release includes a more advanced benchmark script to stress test the newer multi-core processors.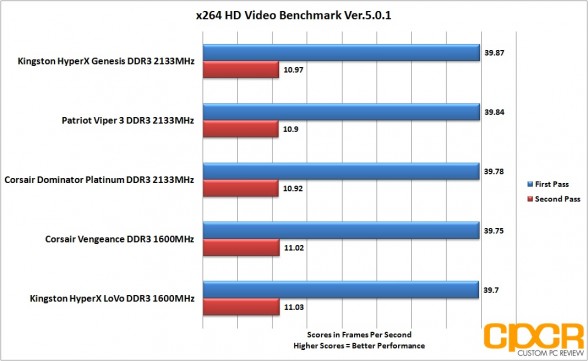 Finally for some real world testing, I fired up a couple rounds of x264 video encoding and the results are once again negligible at best. In both the first and second pass, the difference between all the memory kits tested today is under 1 second. Big whup. Let's move onto something more fun… like overclocking.