Cooler Master TPC 812 CPU Cooler Review
Posted July 28, 2012 by Mike Lewis in
Reviews
Navigation:
TPC 812 Testing Methodology and Performance
Test Setup
CPU: Intel Core i5 2500k
Motherboard: Asus P67 Sabertooth
Memory: 8GB Samsung DDR3 1600 MHz
Storage: OCZ Agility 3 120GB SSD
Graphics: XFX Radeon HD7850 2GB
Power Supply: BFG Tech EX-1000
Case: HSPC Top Deck Tech Station (Large)
Special thanks to HSPC and OCZ Technology for sponsoring our test bench!
Methodology
For all of my tests I'm going to be using Real Temp to monitor all temperatures. Idle temperatures will be measured after the computer has sat idle for 15 to ensure everything has fully settled. Load temperatures will be tested with Prime95 on the default blend settings, running for 30 minutes. Load temperatures will be calculated by averaging the temperatures from all four cores. All heatsinks will be tested using Arctic Cooling MX-4 thermal compound.
Results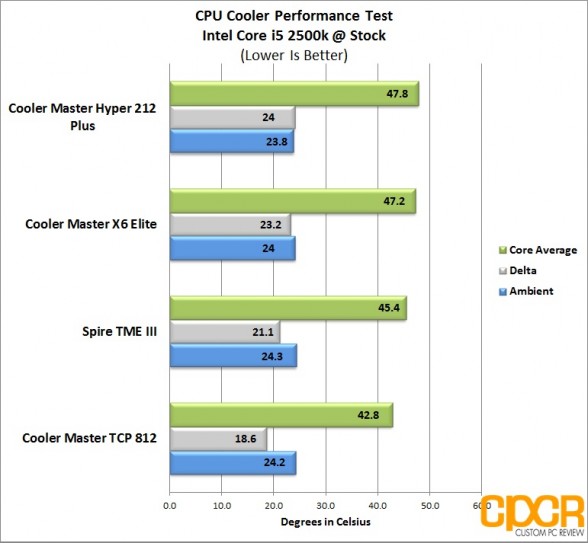 On our stock speed tests we can see that the TPC 812 performed the best out of all four of our coolers that we tested. With a delta of just 18.6 degrees Celsius, it's definitely able to keep a stock CPU very cool. However most of you don't care too much about stock speeds, so lets look at how well it performed when we overclocked our Intel Core i5 2500k to 4.8ghz.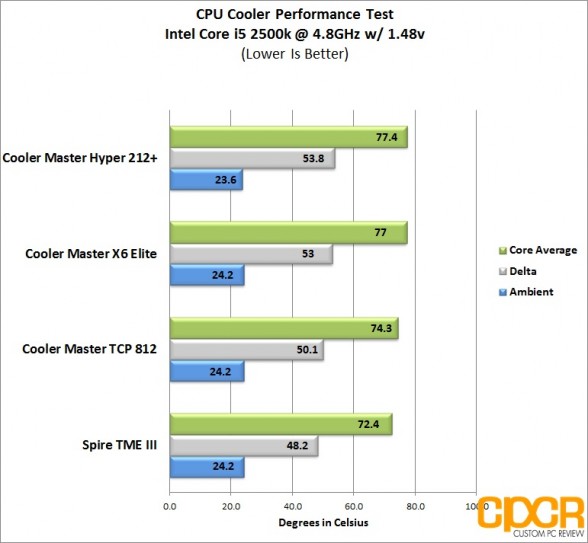 Here we can see that the TPC 812 still did a pretty good job, but it wasn't able to maintain the top spot on our charts. It was bested by the Spire TME III, which has much larger heatpipes and dual fans in push/pull configuration. Our Cooler Master TPC 812 was able to maintain a delta of 50.1 degrees Celsius, which is still not too bad considering that it was still well within the realms of normal operating temperatures despite the high overclock.