Cooler Master TPC 812 CPU Cooler Review
Posted July 28, 2012 by Mike Lewis in
Reviews
Navigation:
Cooler Master's Vertical Vapor Chamber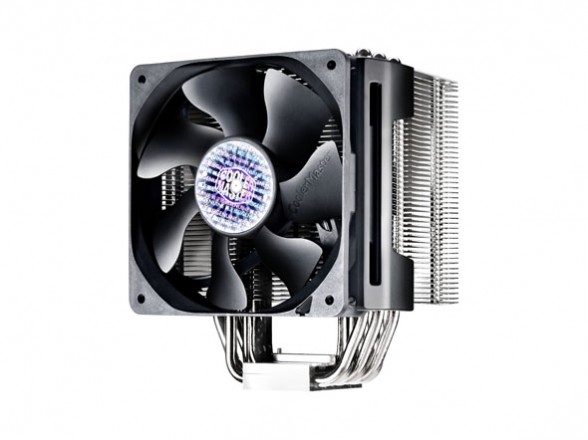 20 years ago back in 1992, Cooler Master started out as an OEM CPU cooler manufacturer after realizing a strong demand for CPU cooling with the emergence of the PC market. For years that's all they did; however, with the continued success of their innovative cooling designs, they began expanding into the world of computer cases and, as of late, have even gone into the gaming peripherals and mobile accessories markets as well. Today, we'll be taking a look at one of Cooler Master's newest and most innovative CPU cooler designs, the Cooler Master TPC 812.
Coming from a long history of innovative Cooler Master CPU Coolers, the TPC 812 features a rather unique design. Most air coolers nowadays feature a base connected to usually a 6mm to 8mm heatpipe, which is then connected to a heatsink. Through this base to heatpipe to heatsink connection, heat from the CPU is transferred from the base of the cooler onto the fins of the heatsink then removed via the fans blowing over the fins. While the Cooler Master TPC 812 does have a full six 6mm heatpipes, it also features something a little different – two vertical vapor chambers capable of dissipating a full 120w of heat each… and that's not even counting what the six 6mm heatpipes can do either.
Vertical Vapor Chamber
Since I know some of you will be asking "What exactly is a vapor chamber and how does it work?", I decided to explain it, but thanks to the folks over at Cooler Master, I ended up just borrowing their handy little graphic instead. As you can see, the despite the fancy name, a vapor chamber actually works exactly the same way as a heatpipe except it's shaped like a heatpipe that's been flattened. In a nutshell, heat gets absorbed by a liquid inside the vapor chamber, turns into a vapor and moves upwards, heat is then dissipated through the fins, and the now cooled liquid moves back down again for another round of heat dissipating action. As of now, the only company to offer both heatpipes and vertical vapor chambers on the same cooler is Cooler Master.
Specifications