CM Storm QuickFire Pro Mechanical Gaming Keyboard Review
Navigation:
CM Storm QuickFire Pro Conclusions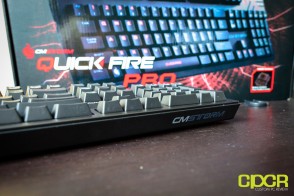 Since the QuickFire Pro is a gaming keyboard after all, I found it fitting to begin the conclusion with the gaming performance. Throughout all my tests the QuickFire Pro met all my expectations. Gaming experience on FPS and RTS games were smooth and key presses were responsive whether it was sidestepping a zombie or macroing a DT behind enemy lines. By having the ability to turn off the windows keys, Cooler Master has solved an occasional issue gamers have of minimizing the screen during gameplay. The NKRO functionality performed very well on the fighting game tests weather it was in single player or multiplayer mode and was able to withstand massive amounts of button mashing. Quite frankly, I'm quite happy to see that Cooler Master has figured out a way to incorporate NKRO onto the QuickFire Pro as the flagship CM Storm Trigger was lacking this functionality.
In terms of typing speed, I was a bit of a skeptic myself when I first was introduced to mechanical keyboards. But after  having reviewed many keyboards, I can tell you that they indeed make a difference. That said, it's only going to help those who can type properly. If you're still dinosaur pecking at the keyboard, not even a mechanical keyboard can help you there.
The sturdy design of the body of the CM Storm QuickFire Rapid along with the detachable braided USB cable has been designed to take quite a bit of abuse and should ensure that the QuickFire Pro will be your keyboard of choice for a long time. One thing I really like about the design of Cooler Master mechanical keyboards is that they all have detachable USB cables. This effectively makes the "weak link" on the keyboard easily replaceable and is a feature that is seldom (if ever) seen on most other mechanical gaming keyboards.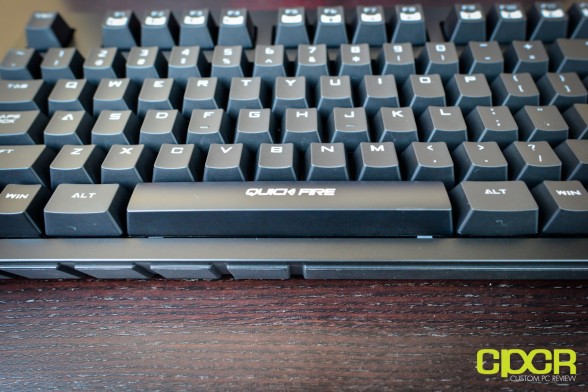 Speaking of design choices, I'm going to talk a little bit about the partial LED backlighting offered with the CM Storm QuickFire Pro. Personally, I see a pretty good reason in having partial backlighting. Most gamers won't need an entirely backlit keyboard and Cooler Master seems to understand this quite well. Couple that onto the fact that producing a semi-backlit keyboard is going to net a huge cost savings, and it makes sense why Cooler Master went with this route. However, it doesn't look anywhere near as good as a fully backlit mechanical keyboard so those looking for something cool to light up their desk, this keyboard is probably not for you. One thing I wasn't too happy with though is the fact that not all the F keys are lit up. By giving users a Fn lock key, Cooler Master essentially also gave us dedicated media keys, which is awesome. Unfortunately, they're not lit up, so you can't really use them in situations where media is typically consumed – in the dark.
Currently, the CM Storm QuickFire Pro is currently available on Amazon for $89.24, which makes it a very compelling value for those in the market for a mechanical gaming keyboard. At this price point, Cooler Master is generally competing with lower end mechanical gaming keyboards that typically don't offer features like full LED backlighting, USB hubs, audio passthroughs, etc. Competitors include the Razer BlackWidow ($68.99), Das Keyboard Model S Professional Silent ($117.16), Filco Majestouch-2 ($149.00), and the Tesoro Durandal G1N ($129.95).
Bottom Line
While some competitors include features such as USB hubs, audio pass throughs, NKRO, lower price points, or even full LED backlighting, none feature the solid build quality of the CM Storm QuickFire Pro at the price Cooler Master is asking. Those looking for a solid mechanical gaming keyboard at a very reasonable price, be sure to take a good, hard look at the CM Storm QuickFire Pro.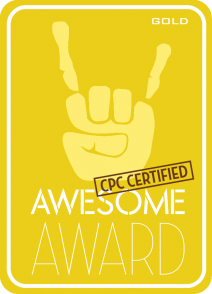 Special thanks to Cooler Master for making this review possible.
The CM Storm QuickFire Pro is currently available on Amazon.