CM Storm QuickFire Pro Mechanical Gaming Keyboard Review
Navigation:
CM Storm QuickFire Pro Performance
Test 1: Left 4 Dead 2
Starting with an FPS (First Person Shooter) I tested the keyboard both in 6KRO and NKRO and found that under both modes the keyboard performed flawlessly. All my key presses where extremely responsive and saw no ghosting at all. During this test having the ability to switch off the windows keys got rid of an old but annoying issues gamers everywhere have to deal with. You know what I am talking about, when you accidentally minimize your screen and your audio or video glitches out on you. Well now with the windows keys turned off you wont ever have to suffer another death caused by this type of accident. Win!
 Test 2: StarCraft 2
I'm no pro in SC II, but even at my level 1 ability, the QuickFire Pro's Cherry MX Brown switches helped increase my APM and thus improve my game. The reason for this is simply because with the Cherry MX Brown's tactile bump on each keypress, I'm able to better feel when a button is actuated so mistakes or double presses due to not knowing if I pushed a button in the first place are greatly reduced.
For giggles, I also tested the polling rate from the QuickFire Pro by doing a blind test. I asked a friend to randomly select a rate between the four offered and then I proceeded to play a match of SC II.  Surprisingly, I was able to distinguish between the slowest and the fastest polling rates correctly, but I was definitely blind guessing here. Personally, I don't think I'm anywhere near the level of gamer where a different keyboard polling rate would even matter, but it's great that Cooler Master has included functionality to switch between polling rates anyway.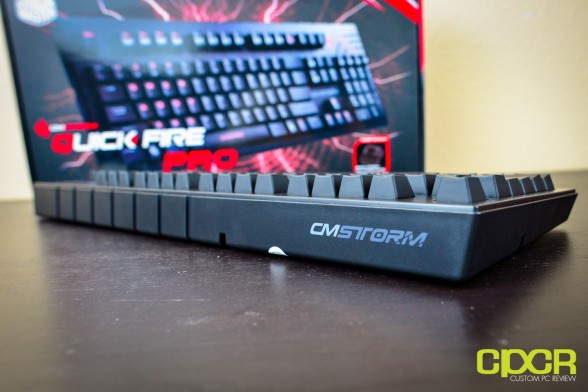 Test 3: Marvel Vs. Capcom / King of Fighters XIII
Since the QuickFire Pro has NKRO, I was really excited to begin this test since this is where most keyboards run into some trouble. Standard run of the mill non mechanical keyboards usually give you 4-6 simultaneous key presses before limitations kick in which would suffice for single player action but would run into issues when two players joined the party. I began by testing the 6KRO and like most keyboards the single player experience was flawless. I was able to perform special moves and call out for assists without any issues. The issues arose as expected when the second player joined. With the second player sharing the keyboard we began to experience minor problems when many keys where being pressed at the same time. For example moves would not register even though they were executed properly or assists would fail to come out. After turning  the keyboards NKRO ability all this issues were solved and both players were able to play without issues.
Test 4: Typing Test
Having had the chance to extensively review different mechanical keyboards with Cherry MX Browns like the CM Storm Trigger and the Durandal G1NL, I already knew beforehand that I typically gain a typing speed boost of around 11% in comparison in comparison to a standard membrane based laptop keyboard . Following the same test set up as before, I decided to test out my typing speed with the QuickFire Pro to see what kind of improvements I would achieve this time around. I went to the following touch typing test site and proceeded to perform the tests. The chart below shows a comparison between my typing speed using my laptop's keyboard (Dell Studio XPS 13, possibly the worst case scenario) compared to the QuickFire Pro.

As you can see above from the tests performed, my typing speed has improved by ~16%. This is a 5-6% improvement over the CM Storm Trigger, and Durandal G1NL  keyboards. I feel that this is more because I have gotten much more used to using mechanical keyboards with the Cherry MX Browns than when I first started testing keyboards. After all, the Cherry MX Browns found on all three keyboards are identical and should not warrant for any sudden improvement by switching form one keyboard to the other.
Test 5: NKRO
To test the 6KRO on the keyboard I began by pressing the "ASDFJK" keys simultaneously and as advertised all 6 keys showed up. However after attempting to press more keys down such as the key combination of "ASDFJKL;" I was only able to get either 6 keys to register, a random subset of the keys I had pressed down or nothing at all. After switching to the NKRO, I had no doubt in my mind that they keys would perform well since it had passed the fighting game tests. To test the NKRO I simply pressed as many keys as I could. A quick note to Apple users (If there are any…) full NKRO is not supported on MACs, so if you were planning to game in full NKRO you might be a bit disappointed .