Audioengine 5+ (A5+) Speakers and D1 DAC Review
Navigation:
Audioengine 5+ and D1 DAC Performance
Games and Movies
As usual with my audio product reviews, I tested the Audioengine 5+ quite extensively in a variety of different movie and gaming scenarios. For gaming, spent most of my time playing a lot of Battlefield 3 as well as the newly released Counter Strike: Global Offensive (CS: GO). In both games I had an extremely good experience with these speakers as they delivered crystal clear vocals and a surprisingly large soundstage, which really helps give games that three dimensional feel. Even during gameplay I was able to hear some minute details in the sound with the Audioengine 5+ that I never noticed before. Most computer speakers, even the higher end ones from Logitech or Klipsch are tuned very heavily towards the bass and a lot of sound in the mid section disappear in the process. With games like Battlefield 3 where there the developers put a ton of effort into small details in the audio such as birds, wind noise, etc., being able to hear these sounds makes the game a much more immersive experience.
One thing I did notice when using these speakers is that it's very important to get at least about 4 feet of distance between the speakers and ideally according to the manual about 6 feet. Typically, most people place computer speakers around 2-3 feet apart and at least with the Audioengine 5+, there's a huge and very noticeable difference in the sound stage and three dimensional feel of the movie or game when doing so. It's also very important to give the speakers at least 6 inches from the wall behind them and to remove any obstacles in the way as this will help enhance the bass response.
As with gaming, I noticed a similar experience with movies as well. One of the most memorable movies I watched during the testing period was the new movie, Battleship, which for a huge nerd like me was a full 131 minutes of pure audio bliss. The Blu-Ray edition's lossless DTS-HD Master Audio 5.1 track was stunning even though I had stepped the track down to 2.0 for the Audioengine 5+ speakers. The 5+ handled the audio very well giving each splash, each shot of the cannon, and each fighter jet flying by a sense of complete and utter realism. Vocal clarity was amazing here as well, which gave me the feeling that I was right there on the bridge as Lt Alex Hopper (Taylor Kitsch) and Cpt Nagata (Tadanobu Asano) were making plans to take out the alien vessel.
That said, one thing I really missed the first time I watched Battleship was the complete lack of earth shattering bass that would be accompanied by most 2.1 computer speakers out there. However, Audioengine does give you the option of connecting the Audioengine S8 or any 3rd party subwoofer that accepts RCA inputs (practically everything). In my case, I dropped in an Emotiva Ultra Sub 12 and the result was nothing short of spectacular. So good in fact, that my 20 minute "re-test" of Battleship's epic USS Missouri vs alien spaceship battle turned into a "re-test" of the entire movie. For those who purcahse the Audioengine 5+ and expect to spend a ton of time gaming or watching movies, I'd very highly recommend picking up a subwoofer such as the Audioengine S8 (not tested personally) or the Emotiva X-Ref 12 (successor to the Emotiva Ultra Sub 12 tested today) for that extra kick in the low end. While the 5+ speakers can produce clean and tight "musical" bass, it simply doesn't give you that same earth rumbling effect that you'd get from a dedicated subwoofer.
Music
Next up I also tested music with the entire setup, and similar to my testing with movies and gaming, I was extremely pleased here. Unlike a reference monitor, the Audioengine 5+ is tuned to slightly favor bass, which may be a bit undeseirable to those who are really looking for a totally flat response. The highs on the other hand are a bit bright and sound a bit "raw" while the mids seem a bit overpowered at first, but after about a bit of breaking in (~10-20 hours or so for me, Audioengine recommends 30-50 hours), it does go away.
After the A5′s are broken in, the speakers start giving you rich and warm mids, which when coupled with crystal clear vocals is especially suited for music with mid/high to high end vocals such as Adele's Rolling in the Deep or AC/DC's Thunderstruck. Those who enjoy piano music will find the clarity of these speakers stunning as well, as I sat there feeling there was a grand piano playing George Winston's Variations on Canon right in my room! Additionally, since these speakers are tuned for a bit more bass I found that "party" music and soundtracks are especially good with these speakers as well. Stuff from Usher and Two Steps from Hell sounded exceptionally good, and coupled a powerful subwoofer for that sub 50Hz response I found myself dancing in my seat.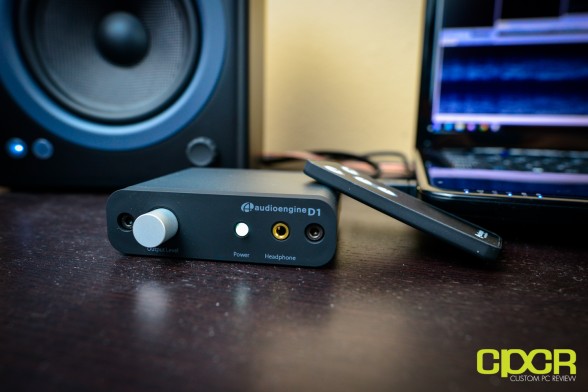 Audioengine D1 DAC
In addition to the speakers, I also did some listening tests with the Audioengine D1 DAC in all of these scenarios above and I found performance with this little unit to be great as well. The biggest thing you'll notice about the D1 DAC is that it was able to clean up the electrical noise (hissing and humming) especially in comparison to the onboard sound on both my desktop (Realtek ALC898) as well as the audio on my laptop (Realtek ALC269). This was especially annoying when using my Ultimate Ears TripleFi 10, which is an extremely sensitive pair of IEMs (in ear monitors).
Audioengine claims that the D1 can be used with any headphones with a minimum of 20 ohms resistance, but I didn't find that the case on the Ultimate Ears TripleFi 10, which is rated at 32 ohms. Music came out distorted and there was slight hissing going on in the background, which almost sounded a bit worse than onboard sound on my computer. However, I did try plugging in the airline attenuator, which gives the headphones ~100 ohms additional resistance and that worked absolute magic. The hissing went away, and the audio became crisp and clear. I spent some time switching back and fourth between my iPhone 4S and the Audioengine D1 with the TripleFi 10 and the iPhone 4S doesn't even compare to the Audioengine D1. Music simply sounded much more lively and the imaging felt a lot more realistic whereas music coming off the iPhone 4S sounded a bit dull and fake, not to mention the slight hissing as well.
With both the Ultimate Ears TripleFi 10 and the Audioengine 5+ speakers, I found that the D1 DAC was able to output a fairly balanced response, which personally for me is ideal for music. Unfortunately, both the Audioengine 5+ and the Ultimate Ears TripleFi 10 are both slightly colored for bass, so I wasn't able to really accurately judge if it's the DAC that was giving the bass and low mids the slight kick. Either way, the music sounded amazing.