Audioengine 5+ (A5+) Speakers and D1 DAC Review
Navigation:
Audioengine 5+ and D1 DAC Setup & Installation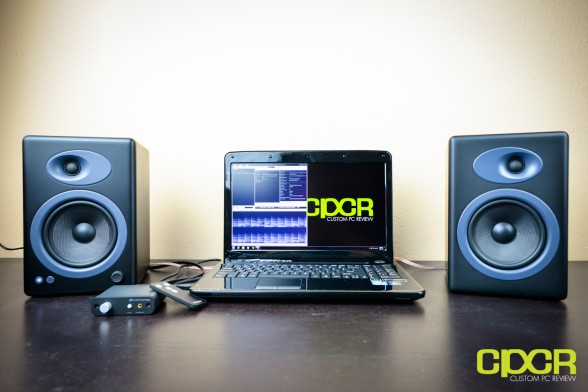 Setting up the Audioengine 5+ along with the Audioengine D1 DAC was overall an easy and painless process.  The easiest way to get started is to connect the speaker wire from the speaker wire terminals on the left speaker to the right speaker. Connect any audio output device to either the 3.5mm audio in jack or the RCA audio in jack, plug in the power cable, and the speaker is all ready to go.
In order to optimize your listening experience, Audioengine also includes a ton of tips on speaker placement, connectivity options, etc. in the setup guide as well.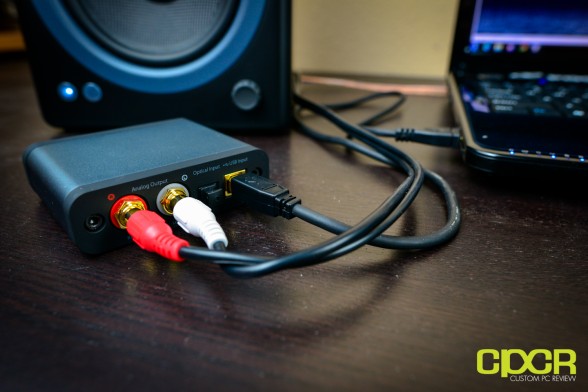 The D1 DAC is connected to the PC using the included USB connector while the connection to the speaker can either be through the RCA outputs in the back or via the 3.5mm jack in the front. For testing, I opted to go through the RCA outputs in the back in order to be able to also enjoy music through the headphones during nighttime listening.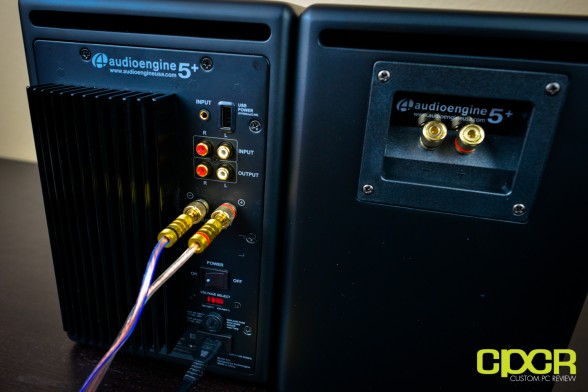 Audioengine includes a 12.3 ft speaker wire (16AWG) which can be attached bare wire to the rear of the speaker, but since I had a couple extra banana plugs available, I installed them onto the speaker wire and they ended up working perfectly fine with the Audioengine 5+. Thumbs up to Audioengine for using a lot of non-proprietary stuff!