Audioengine 5+ (A5+) Speakers and D1 DAC Review
Navigation:
A Closer Look at the Audioengine 5+ (A5+)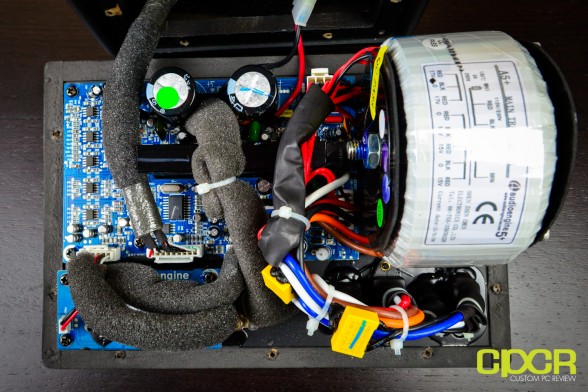 Here's a look at the electronics behind the Audioengine 5+.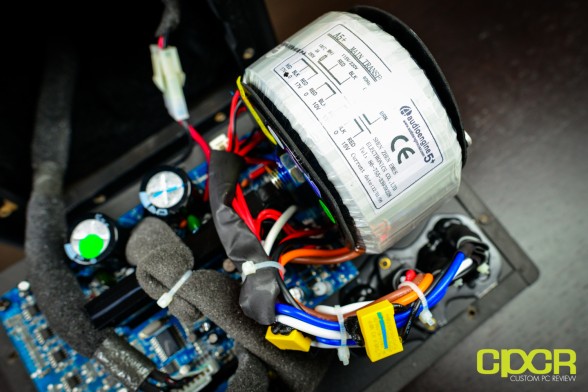 Firs thing you'll notice here is the huge torroidal transformer used to deliver power into the unit. These transformers are most commonly used in audio applications as they radiate less electrical noise to the rest of the components.
Power transformers are a large contributor to the overall audio performance, especially in the low end. Again, no off-the-shelf parts. Audioengine uses gapless core toroidal transformers which have a tighter radiated magnetic field, directly translating to lower noise. They are lighter than standard, lower-cost "EI" transformers and also generate less heat.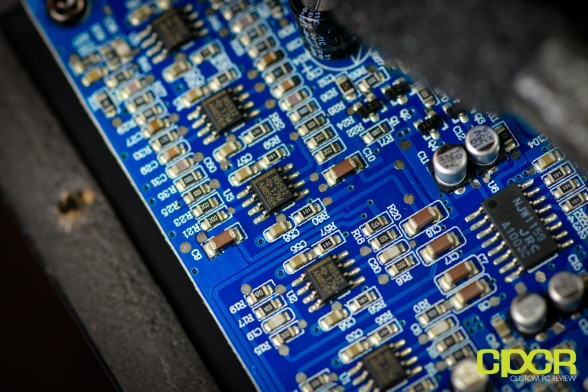 Here's a closer look at the PCB. Audioengine has gone with a number of TI N5532 amps.
The amplifiers in Audioengine speakers are located in the left speaker and are a conservatively rated analog design. All components are tuned together for each model, which provides a much more efficient system requiring less power than passive speakers and separate amplifiers. Circuit boards for the power and preamp sections are mounted for maximum mechanical shock protection.
Taking a look at the capacitors in the Audioengine 5+, I was quite ready to see some Nichicon or Nippon Chemi Con, but instead I find a combination of Chinese capacitors from both ChengX and YIHCON. Yuck! Personally I'm not a huge fan of Chinese capacitors and I'm definitely a bit skeptical of their durability. Guess I'll know where to look if anything malfunctions…