ARCTIC Accelero Hybrid GPU Water Cooler Review
Posted September 2, 2012 by Mike Lewis in
Reviews
Navigation:
Accelero Hybrid Testing Methodology and Performance
Test Setup
CPU: Intel Core i5 2500k
Motherboard: Asus P67 Sabertooth
Memory: 8GB Samsung DDR3 1600 MHz
Storage: OCZ Agility 3 120GB SSD
Graphics: XFX Double D Black Edition HD 7850 2GB
Power Supply: BFG Tech EX-1000
Case: HSPC Top Deck Tech Station (Large)
Special thanks to HSPC and OCZ Technology for sponsoring our test bench!
Methodology
For all of my tests I use GPU-Z to monitor the temperatures at load and at idle. Idle temperatures are recorded after having let the computer sit at desktop for 15 minutes. Load temperatures are measured after letting the computer run Furmark for 15 minutes on the default burn-in test. The stock settings used for our GPU was 1050Mhz core and 1250Mhz memory and our overclocked settings were 1250Mhz core and 1450Mhz memory. All coolers will be tested using ARCTIC Cooling MX-4 thermal compound.
Results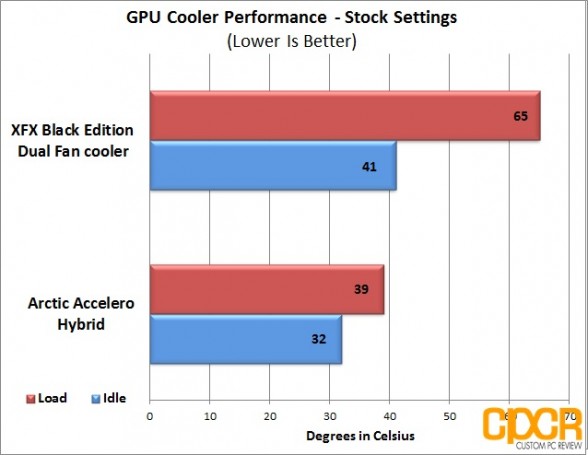 Looking at our stock test results we can see that the Acclero Hybrid was way ahead of the stock cooler on the XFX HD 7850 Black Edition. Additionally, do note that the stock cooler I tested the Hybrid against isn't a reference cooler, and is actually quite a bit better than the reference cooler. However, most of you aren't going to be buying a water cooler for your GPU to run it at stock settings. Let's take a look at our overclocked tests to see how the Hybrid really performs.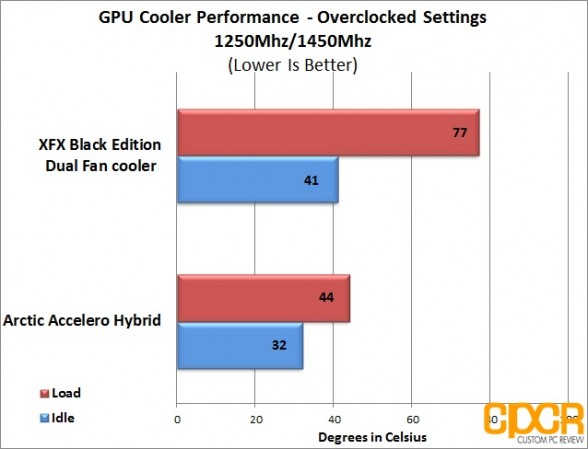 Here we can see a much larger lead for the Accelero Hybrid. Coming in at just 44°C under load, these results are insanely impressive. This means that there was only a temperature increase of 12°C from idle to load at overclocked settings. The Accelero Hybrid was a whopping 33°C cooler than the custom XFX Double D cooler on the 7850 Black Edition.