Best Computer Cases
Looking to build a new gaming PC and need the best gaming PC case out there? Fan noise keeping you up all night? Looking for the best silent PC case?
Well, you're in luck! Here we sort through the thousands and thousands of computer cases on the market to give you some of our top picks. Given our unique position in the computer hardware review industry, many of the cases we're recommending today have been either tested firsthand by out staff here, tested by our partner sites, or thoroughly researched, and we believe they are among the best of the best, dollar for dollar. We hope this section is very helpful for you when you purchase your next computer.
If you're looking for complete PC computer builds, please feel free to visit the Computer Builds section of our website.
Best Gaming Computer Cases
Here we'll be listing some of what we think are the best gaming PC cases on the market. While these cases are primarily designed for gaming, the beauty of building a custom computer is that you get to decide if it'll actually be for gaming! If you want to use a case recommended here as a workstation PC case, or a basic web browsing PC case, they'll work just fine!
Mid Tower Computer Cases
Here we'll be discussing the best mid tower computer cases on the market. These are among the most popular cases out there because there's a large variety of these cases from the budget end to the high end. Typically, you can easily tell a mid tower computer case is a mid tower computer case by counting its drive bays – 4. These cases will typically support motherboard sizes ATX and below. For more information on motherboard sizes, please visit here.
Budget Mid Tower Computer Cases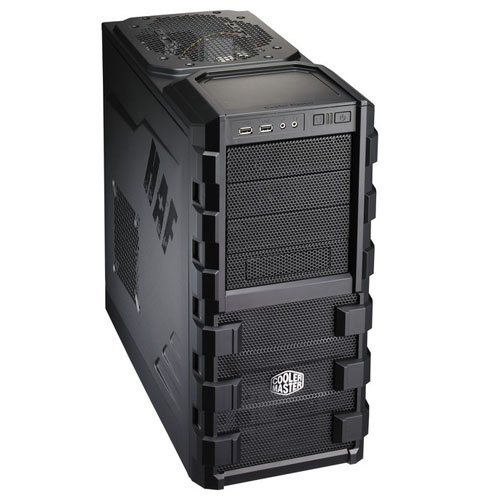 Remember the days when buying a sub-$100 case would net you something that'd fall about in less than half a year? Well, no longer. In fact, nowdays even the "budget" oriented cases are actually quite good.
A favorite here at Custom PC Review is the Cooler Master HAF 912. This case is an absolutely fantastic little case giving users an unmatched amount of airflow, cable management, and space in a pricepoint of only $59. Yes, you didn't read that wrong. It's only $59!
So, what do you get for $59? Well, this is a High AirFlow case after all, so for starters you're looking at 2x 120mm included fans to provide cooling for the entire setup, but that's not all. No, the case itself has enough space for another 120mm fan up front, or the front fan may be re-purposed somewhere else and a large 200mm fan can take its place. Up top, you also get space for 2x 120mm fans or another 200mm fan which means this little $59 case can be outfitted with 2x 200mm fans! That's more airflow than even some larger cases offer! In addition, a side 120mm or 140mm fan can be installed as well giving the graphics card area some breathing room if you decide that it's necessary.
Additionally, you also get a whole lot of  space and expandability in this case as it's compatibility with all ATX motherboards and will be able to house  larger graphics cards as well. All in all, this is an excellent case for those on a budget, and it definitely ranks as one of the best computer cases of all time. It's not now big the case is, it's what you do with the space that counts. 
The Cooler Master HAF 912 is currently available on Amazon.
Don't like it? Check out some other top picks:
High End Mid Tower Computer Cases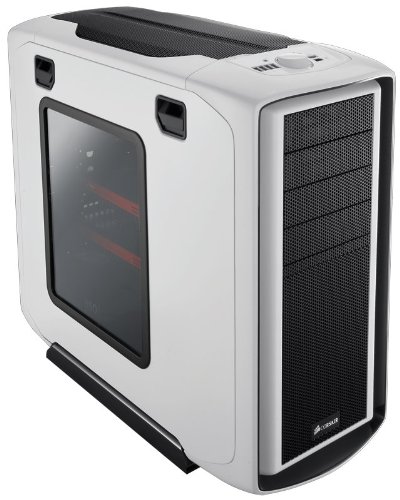 When it comes to high end mid towers these days, it's really hard to ignore what the Corsair Graphite Series 600T White Edition has to offer. After all, look at it! It's absolutely drop dead gorgeous. Looks aside, the Corsair Graphite Series 600T White Edition is an improvement over the popular and successful original Corsair Graphite 600T. This special White Edition features a new removable acrylic side window as well as a stunningly beautiful, high-quality white paint job that'll have all onlookers drooling in envy.
Cooling performance wise, you've got dual 200mm white LED lit fans as well as a 140mm fan to make sure everything inside stays nice and chilly white removable dust filters make sure the insides stay dust free. Like your PC quiet? How about an integrated fan controller mounted right up top?
Additionally, this case features a roomy interior with up to 8 expansion slots, compatibility with all the common ATX form factor (and smaller) motherboards and even the largest graphics cards on the market today. The case also features completely tool less design and some amazing cable management options with plenty of openings leading to the back of the case so you can make sure the case looks fantastic through that window. And with two 200mm fans (and room for more), the case will keep the interior cool.
The Corsair Graphite 600T White Edition is currently available on Amazon.
Don't like it? Check out some other top picks:
Full Tower Computer Cases
Here we'll be discussing the best full tower computer cases on the market. These are going to be the enthusiast class computer cases and are typically designed to fit the maximum amount of computer components possible and to provide the maximum amount of cooling possible. Because of the added size, these cases are typically more expensive; however, for those with larger motherboards such as E-ATX or XL-ATX, full towers are a necessity. Typically, you can easily tell a full tower computer case through its drive bays as well – most full towers have 6. These cases will typically support pretty much any sized motherboard out there. For more information on motherboard sizes, please visit here.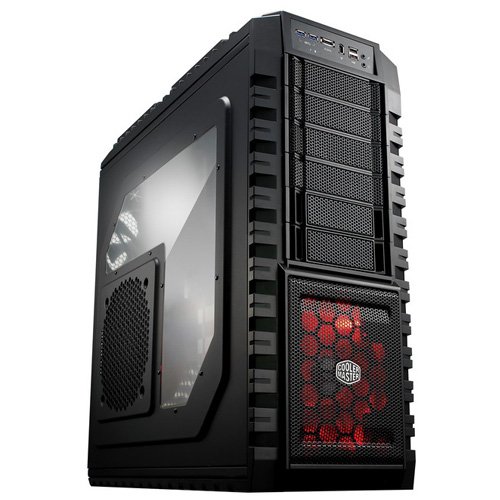 The cooler Master HAF X case is possibly one of the most popular high end computer gaming cases on the market today, and that's because it's damn good. Starting with the appearance of this case, it's absolutely stunning. The entire "tank like" chassis is finished in black and wrapped in some very high quality steel and plastic. As its name, high air flow, implies, the major selling point of this case is in its top notch cooling performance. Up front through the mesh grill you get a 230mm red LED lit fan sucking plenty of air into the case while up top you also get a large 200mm fan complemented with another 140mm fan to round out the exhaust system.   On one side of the case you also get a large window covering 3/4 of the sidepanel allowing you to show off your components, while the other 1/4 of the window houses an extra large 200mm intake fan for unprecedented graphics card cooling performance.
Of course, the case also features some other pretty sweet features such as USB 3.0 front headers, full support for every motherboard size between mATX to XL-ATX, excellent cable management, tool free installation, SLI/Crossfire support, and even casters so you can roll this badboy around.
The Cooler Master HAF X is currently available on Amazon.
Don't like it? Check out some other top picks:
Join the discussion on our forums!
Got a case that you'd really love to see recommended here? Curious about a certain case?
Share your comments in our forums! Let us know what case you like and why you like it, and it may be added during the next revision of this article!
Plug
Help Us, Help You!
We spend a ton of our precious and valuable time researching and writing up what we think is the best computer hardware you can buy for the money. We are very passionate about what we do and really enjoy spending our time helping you make the best buying decisions possible, but unfortunately passion and enjoyment doesn't necessarily bring in much return.
If you appreciate what we do and want to help us continue doing what we do, simply hit our special Amazon link below prior to purchasing anything from Amazon. It doesn't cost you anything to do so, but it does give us a small return on every purchase you make.
If you feel like being
extra awesome
, be sure to click the banner,
bookmark it
and help us out a bit every time you make a purchase!
Last updated: July 2012